The post United Promotes Benefits of Bluetooth Enabled Planes appeared first on TD (Travel Daily Media) Travel Daily Media.
United Airlines showcased the capabilities of its new Bluetooth-enabled planes, emphasising new AirPods Pro features that simplify connecting and communicating between passengers and flight attendants. As part of United Next, the airline's goal to modernise and grow its fleet, Bluetooth connection is already available on over 100 aircraft and will be available on about 800 planes by 2032.
In addition to seamlessly connecting to United's new seatback screens, AirPods Pro users may use new innovative features such as Conversation Awareness and Adaptive Audio. Conversation Awareness, now available for all AirPods Pro (2nd generation), decreases the volume when the user begins speaking, making interacting with a flight attendant while ordering food and beverages simpler. Adaptive Audio is a new listening mode that dynamically blends transparency mode with Active Noise Cancellation dynamic noise control based on the sound in a user's environment – such as jet engines roar.
"United was the first U.S. airline to roll out Bluetooth, and when we saw Apple's new AirPods features, we knew it could be a game changer for our customers and employees," said United's Chief Information Officer, Jason Birnbaum. "People want to stay connected while they're in the air, but there's also a lot of interactions between our crew and customers – the technological combination of wireless connectivity, Conversation Awareness and Adaptive Audio result in a great experience for everyone."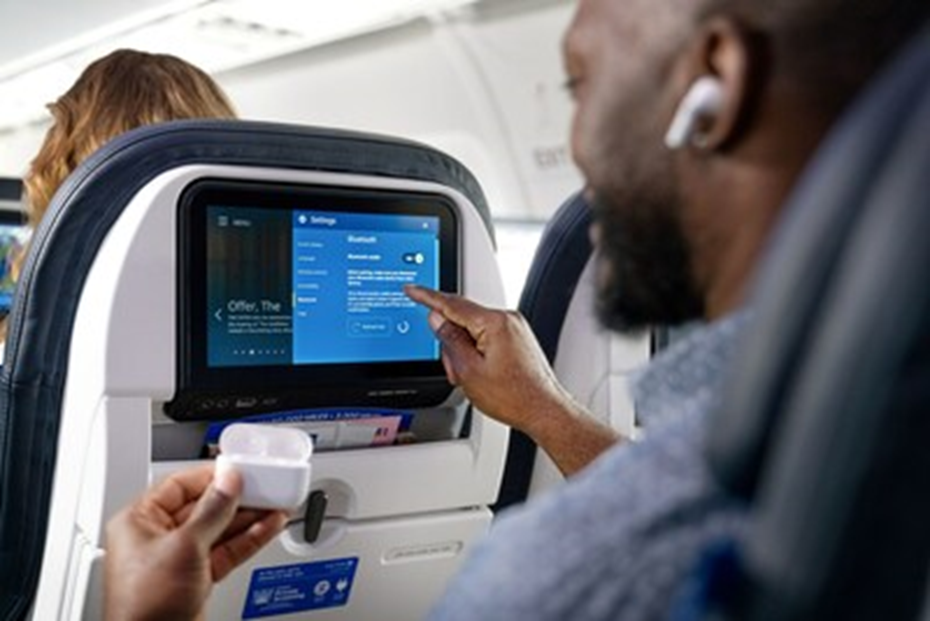 Here's how Bluetooth pairing works onboard United's new and retrofit planes:
Select the Bluetooth icon from the toolbar near the bottom of the seatback screen monitor.
Toggle Bluetooth on and ensure your Bluetooth headphones are disconnected from other devices.
After placing them in pairing mode, select the device from your list of available devices.
Enjoy your favourite TV shows, movies, podcasts, curated playlists and more without wired headphones!
For more than ten years, United has integrated Apple products across its operation to enhance the customer experience, including things like:
Deploying the first paperless flight deck with iPad in 2011.
Rolling out more than 120,000 Apple devices, including iPhone and iPad, to United employees, connecting them to one another in real-time.
Using iPad with Touch ID to get sign-off in a matter of minutes on documents that release an aircraft for departure, helping prevent delays for passengers.
Adding Live Activities support for the United app on iPhone, making United the first U.S. airline to make it even easier and faster for fliers to receive timely updates and find important flight details right on the Lock Screen or through the Dynamic Island on a user's Home Screen.
In addition to Bluetooth connectivity, United's new and retrofit planes include several customer amenities, technological innovations and fuel efficiency benefits. For narrowbodies, these include seatback screens in every seat, enough overhead room for everyone's carry-on and fast Wi-Fi.
Each new widebody is equipped with United Polaris® business class, providing guests with their pod with lie-flat seats and 16-inch seatback displays. Therabody and Saks Fifth Avenue have just unveiled new business-class amenity products and services for the airline.
Furthermore, compared to the older models they replace, United's new aircraft will continue reducing per-seat carbon emissions, line with the airline's goal of being nett zero by 2050 by lowering greenhouse gas emissions 100% without depending on traditional carbon offsets.
According to Boeing, the 787 Dreamliner contributes up to a 25% improvement in fuel efficiency and lower carbon emissions per seat compared to the planes it replaces. At the same time, Airbus claims that the A321neo contributes a 50% noise reduction and more than 20% fuel savings and CO2 reduction compared to previous generation single-aisle aircraft.
The post United Promotes Benefits of Bluetooth Enabled Planes appeared first on Travel Daily Media.